When my sister-in-law asked me if I wanted her old couch, my first response was not a positive one. Where would we put? Did we really need another couch? What would my husband say about me bringing home his sister's old couch? After all, she has seven children and six of them are boys! The couch had been used well and abused more.
Holden was standing there when Kelly asked because he had been called upon to help move the large and very heavy couch. His first response was positive. Yes, we could use the couch. Of course, we needed the couch. The playroom would be the perfect place for it. I was skeptical, so I quickly sent a text to Chris asking him what his opinion was. His response was a quick, "You decide."
After twelve hours and careful consideration, I decided that the couch could indeed come home with us.
I am so thankful that Holden encouraged me to take it, and I am grateful that Chris stayed out of the decision making process because I am almost positive that we would not have the couch if he gave his opinion. He refers to the couch as the funky couch.
The couch has been in our home for three weeks now. The boys love it, and I am very pleased with it as well. It may be a little beaten up, but we don't care about that. We are just happy to have a comfortable spot to sit and enjoy each other. The playroom was only used by Ralph and three small goldfish before we got the couch. Now it is the most popular room in the house.
*a teenager with the ability to see things his mother can not
*a generous sister-in-law
*a husband that knows when to just let things happen
*brothers spending time together
*orange walls and circle top windows
*little boys and plastic toys
*a room to live and play in
*the cooling breeze of a ceiling fan
*sitting and chatting with old friends
*a mason jar with ice cold water
*cotton and bamboo in my hands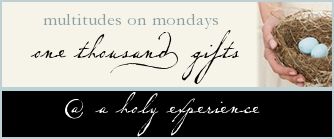 Counting with
Ann.